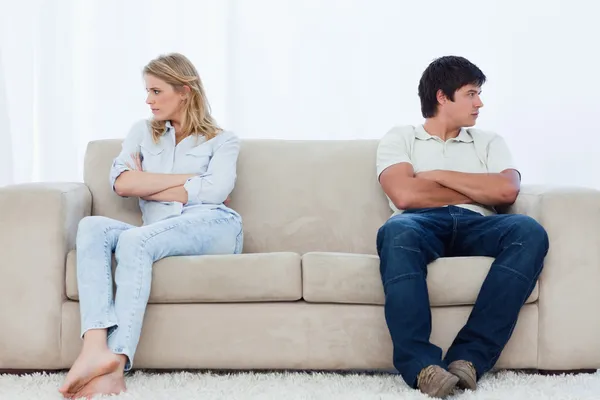 Are you Lazy in Love?
Here's a quiz for all you married men and women out there.  Answer each question honestly and I'll tell you how you rate in the romance department.
1. After my spouse cooks a delicious meal, I'm most likely to say:
a.Thank you, Sweetheart.  The food was extraordinary.
b.Do you know where the –BURP!- remote control is?
2. When your spouse talks about something good that happened at work, you're more likely to say:
a. Honey, I'm proud of you.  I always knew you were smart and capable.
b. I smell the baby's diaper.  Why don't you prove your capability by changing it?
3. When you and your spouse have to be separated for more than one night, your parting words are:
a. I'll be counting the hours until I see you again.  I'll miss you and just remember, no one loves you like I do!
b. Tomorrow is trash day.  Don't forget to carry it to the curb.  And don't forget to take Junior to his t-ball game.  His uniform is in the dryer.  Don't let him eat sugar.
4. After a relaxing dinner at home, you're most likely to:
a. Stroll around the neighborhood holding hands and whispering romantic things in each other's ears.
b. Sit in front of the tube drinking orange soda and wishing the kids hadn't eaten all the Doritos.
5. You and your spouse dress up, get a babysitter, go out to eat, and have wonderful dates together:
a. every few weeks.
b. on anniversaries ending in the number "0."
Romance.  Gosh darn it.  We all seem to get such a good start in this area and end up faltering somewhere in the "middle years." Have any of you slipped into that obligatory morning/evening kissing pattern?  There's nothing less romantic than the obligatory kiss.  Let's be honest.  We've kissed our grandmas and puppies with more enthusiasm.
And don't even think I'm focusing this blog post on men.  Women are equally at fault.  Men and women can easily get preoccupied and focused on things and people other than spouses.  Criticism can quickly become the primary mode of communication.  And let me be crystal clear.  Verbal criticism is death to romance.  Absolute death.
When Phil and I first married we lived in our own little world of romance.  We would go out to eat and shake our heads with pity at the couples who spent most of their time chewing or looking around.  We rejoiced that the horrid complacency we were witnessing was destined to never rear its ugly head in our unbelievably passionate and powerful union.  Yeah.  And we even used words like "unbelievably passionate and powerful union."  I know.  It's almost funny.  Years later, we believe the words "unbelievably passionate and powerful union" still apply.  We just sometimes get lazy.
We would never let our yard grow too high.  We would never forget to give children a meal.  But ironically, we sometimes forget to feed the romance in our marriage.  But it's not too late for change, friend.
Kiss passionately every day.  Write love letters.  Have a lot more sex.  Schedule times for intimacy.  Serve each other.  Constantly.  Daily.  Don't worry about what your spouse is doing.  Focus on your part.  The result?  You'll be part of the romance revolution.  A revolution that honors God.  A revolution we desperately need.
For romance and laughter, check out my Doug and Carlie series, available in Kindle and paperback at the link below (And yes, there are a lot of FREE pages you can read of all 4 books at this Amazon link.  And I get it.  You love the word FREE.  I am with you, friend.  I am SO with you.):
https://www.amazon.com/gp/product/B074C76273/?ie=UTF8&crid=2NCYJG6PP4U66&keywords=doug%20and%20carlie%20series&qid=1563550251&ref_=sr_1_6&s=gateway&sprefix=doug%20and%20carlie%20series%2Caps%2C348&sr=8-6